Sunday School Articles & Ideas
"Annette's Notes"
Here are Sunday school articles on a variety of practical, inspirational, and fun topics for teachers and children's ministry workers.

You can also subscribe to my newsletter, "Annette's Notes," to receive these Sunday school articles via e-mail. To do so, please fill out the form at the bottom of this page.
Since these articles cover a wide range of ideas, if you are looking for a certain topic, use the search box at the top of this page to search specifically, or use your search engine's "find in this page" feature (for example, type the word "prizes," "decor," or "prayer," in the search box). Otherwise, enjoy the random inspiration and ideas shared here.
You can also go to the "Annette's Notes Back Issues" page for a list of links to all the articles. 
---
Seasons. Pennies Under Chairs.

"To every thing there is a season and a time to every purpose under the heaven:"
Ecclesiastes 3:1
I hope your summer, or winter, is going well, in nature and in whatever life season you find yourself. I can feel it in the air:
The season is about to change.

As we transition into fall, or spring, let's remember God planned that things would change. Personally, I'm not a huge fan of change. I am sometimes slow to adapt. I might dig in my heels a little. How about you?

If we feel this way, how much more our kids. It may be exciting for them to enter a new school year and join a new class and meet new friends. Or it may be intimidating. It is likely a combination of both.

After our last Sunday school promotion, a 5-year-old who joined our class was having problems. She tended to do the opposite of whatever we asked. She wouldn't participate when we asked questions. If we asked her not to kick her neighbor's chair, she did it even more. She did not act like this in her previous class. I think her reaction was like my reaction sometimes when God moves me into a new season: I feel overwhelmed. So many things are out of my control. I might not pray as much. I might not answer when God speaks. Or I might say, "No." I might even do a little spiritual kicking.

In Sunday school, we worked on this student's behavior with patience and a little firmness. Here are some things we did:
To continue reading this article, click here.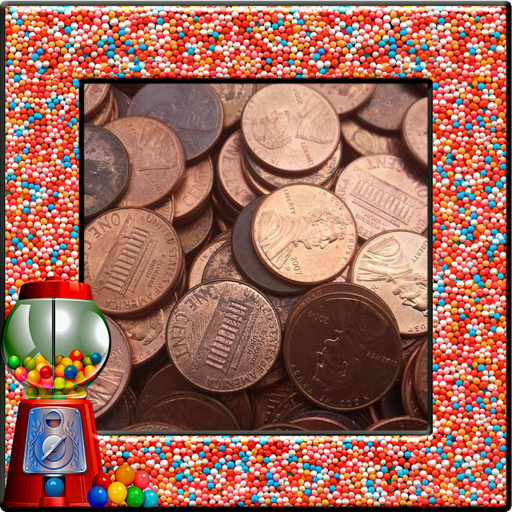 (Image by Angela Rose from Pixabay. Image by Milly from Pixabay.)

---
Precept Upon Precept
"For precept must be upon precept, precept upon precept;
line upon line, line upon line;
here a little, and there a little:"
Isaiah 28:10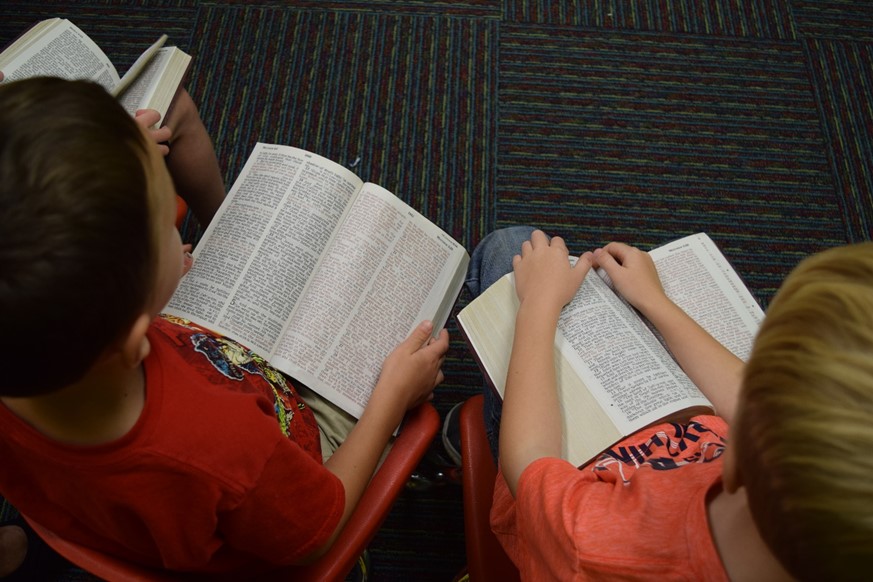 Hello,

You haven't heard from me in a while, and I apologize for that. You are on my mind: Sunday school teachers, children's ministry workers, parents. In whatever way you are working to teach children the Bible, it is always a challenge, and the last couple of years have been extra-challenging. We may have lost connection with some of our students and their families, and that burdens my heart.

I desire to share ideas and encouragement with you: things that have worked for me that might help you. The last few years have brought many interruptions to this process. But precept upon precept, line upon line, little by little I am still learning and teaching children the Bible. I hope you are too!

Last Saturday when I was preparing for Sunday school, I had such a wonderful time. As I sang along with the worship songs--some from Seeds Family Worship and some with lyric videos I made with Superstring Lyric Video Maker --I could feel God right here in my kitchen. As I fine-tuned my lesson plan, I took joy in the Word of God. My faith rose as I prayed for an outpouring of the Holy Spirit during our lesson on the Helmet of Salvation. armor-of-god.html

That was Saturday. On Sunday morning my heart was heavy. A message I had listened to on The Biblos Network was stirring in my mind. It contained a simple but hard truth about wolves. They are necessary for a healthy ecosystem in Yellowstone National Park, and they are necessary in our lives. We need wolves. They are part of how things work together for our good. All Things Work Together

During prayer time in my classroom before the kids arrived, I cried out for my students and for my own children. My heart was heavy for them all. I was thinking, God, I am willing to cry and pray like this, but why this morning? Where is the joy of yesterday? I need energy and joy to deal with the kids when they arrive.
To continue reading this article click here.

---
Bible Timeline Figures
"Now faith is the substance of things hoped for, the evidence of things not seen.For by it the elders obtained a good report. Through faith we understand that the worlds were framed by the word of God, so that things which are seen were not made of things which do appear."
Hebrews 11:1-3

Studying the people and events in the Bible builds our faith. We see positive examples. We see negative examples. We see God's hand at work over centuries of time. We see HIS-story.

Helping kids see the bigger picture of the Bible was my goal in writing the Adventures on Route 66 curriculum.
Adventures on Route 66 curriculum
To help accomplish this, we use a large timeline posted on the wall or a large board.

In the past, I have ordered timeline characters from various sources, which are sometimes unavailable. So that we would not have to depend on other sources, I asked my daughter Emily to draw timeline figures for us, and she drew 153 full-color people and events. I then added names, dates, symbols, and other information. It was a BIG project!
I am happy to announce that our BIBLE TIMELINE FIGURES are finally finished and ready for instant digital download via my Etsy shop: Blossom Cottage Arts!
Blossom Cottage Arts Etsy Shop Bible Timeline Figures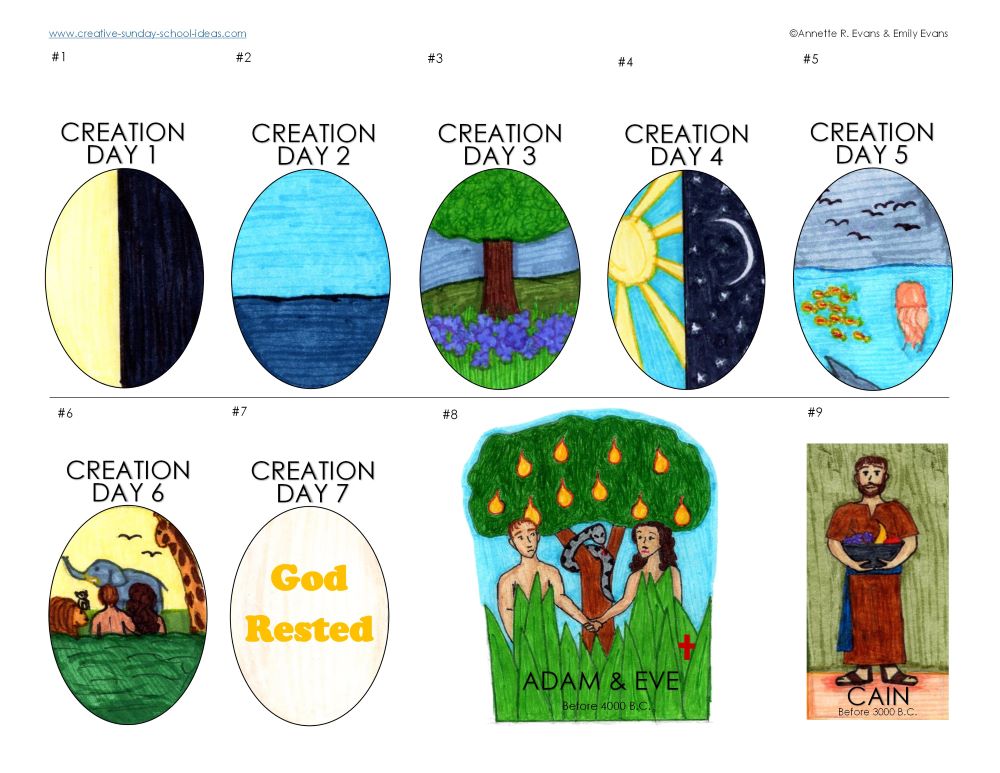 When you purchase the Bible Timeline Figures, you will receive three zip files containing a Read Me page, a Print Release page, and 17 pages of Bible Timeline Figures in PDF files.
To continue reading this article, click here.
---
Sunday School Adventures

"Have I not commanded you?
Be strong and courageous.
Do not be afraid;
do not be discouraged,
for the LORD your God
will be with you
wherever you go."
Joshua 1:9 (NIV)

Wherever we go: whether or not we can gather for Sunday school yet, whether kids have virtual classes or in-person school, whether the virus is peaking or waning, whether there are protests or riots in our cities, God is with us. He is with us through the good and with us through the bad.

Studying God's Word helps us understand there is a bigger purpose. It helps us focus on the eternal, instead of the temporal. It builds our faith in God's plan and provision. To continue reading this article click here.

---
Sunday School at Home
"Hear, O Israel: The Lord our God is one Lord:
And thou shalt love the Lord thy God with all thine heart,
and with all thy soul, and with all thy might.
And these words, which I command thee this day,
shall be in thine heart:
And thou shalt teach them diligently unto thy children,
and shalt talk of them when thou sittest in thine house,
and when thou walkest by the way,
and when thou liest down,
and when thou risest up."
Deuteronomy 6:4-7
These are trying days with the coronavirus (COVID-19) pandemic engulfing the world. Here in the United States, life looks very different than it did even one week ago.

To try to keep the virus from spreading so quickly, many churches are not gathering for worship for the next few weeks. Some are live-streaming or posting videotaped messages.

The spiritual instruction of children actually belongs in the home first of all, so learning God's Word together at home is something that can and should be done. (To continue reading this Sunday school article, click here.)
---
Love the LORD--Heart, Soul, and Mind
"Jesus said unto him, Thou shalt love the Lord thy God with all thy heart,
and with all thy soul, and with all thy mind. This is the first and great commandment.
And the second is like unto it, Thou shalt love thy neighbour as thyself."
Matthew 22:37-39

As Valentine's Day approaches, one can't avoid the hearts. Candy-filled hearts. Heart-shaped balloons and cookies and cakes. Teddy bears and puppies and elephants cuddling hearts. Greeting cards printed with hearts and playing love songs.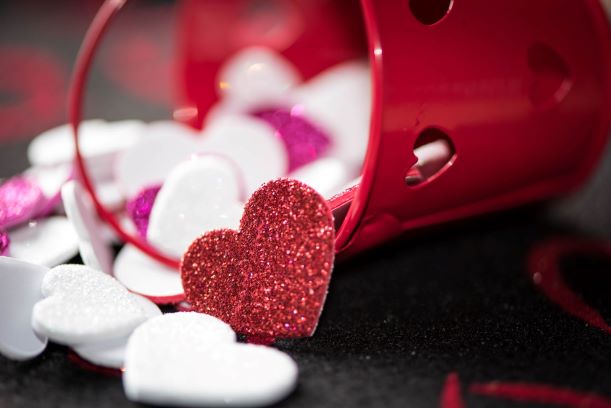 The visual representation of love is often a heart—not the literal blood-pumping organ but a stylized version that looks a bit more pleasing.

When I say I love something with all my HEART, I am, of course, not referring to the physical HEART but to the seat of my emotions, the center of my being. I respond to God's love and naturally want to express my feelings and emotions to Him. I want to adore, worship, and honor Him. Yes, I can relate to the HEART part of loving God.
The SOUL seems to indicate a deeper love. We can relate to having or wishing for a "SOULmate"—"a person with whom one has a strong affinity, shared values and tastes, and often a romantic bond," according to dictionary.com. This is the kind of love that goes beyond surface feelings. The kind of love that is not altered by time or space. The kind of love poets love to write about. Our SOULS long for a deep connection to God. We want to really know Him and be known by Him.

How do you love with all your MIND?

(To continue reading this Sunday school article, click here.)
---
Does God Speak to Us?
(Live in the Present. Do Not Worry.)
Do you ever wonder if God really speaks to us? Have you been in a place where you question things you thought He told you in the past? Have you ever wondered what you have done to make Him angry because He seems so distant, and things have been cold, dark, and wintry for quite a while?

I have been there, my friend. I have no doubt God spoke to me today, and also that He wants me to share with you.

I woke up early this morning, March 20, 2019, the first day of Spring. I'm not sure of the exact order of my thoughts, but somewhere between sleep and awakening I thought about how I need to be living more in the Present. Since my husband died suddenly on March 27, 2017, I have had a lot of worries about the Future—concerns about finances, home, vehicles, moving or not, kids, etc. My kids are a major concern for me. I'm not used to being a single parent. My children are growing into adulthood. We are all trying to figure out what we're supposed to be doing now that our lives have changed so dramatically. I worry if I should be pushing them more, or less. I feel like I am constantly evaluating and reevaluating, which can lead to worry. (We have lived in Nebraska for 8 months now. Their dad's been gone almost two years now. Where are we supposed to be in this process of grieving, of recovery?)

On my way to the bathroom early this morning, I thought of the verse from Matthew 6 about seeking first God's kingdom and all these things will be added unto you. I know "all these things" refers to material things like food, clothing, and shelter. I had a little conversation with God about several things I am trying to do for His kingdom, things I believe He has asked me to do, and I am glad to do them. It is my joy. But none of them really make money. None of them takes care of our financial needs. I specifically mentioned the website, which is full of free Sunday school lessons and information, and makes very little money. I reminded God I was perfectly happy for everything to be free when my husband was alive and supporting our family financially. But now I'm kind of at a loss because I feel like I need to be making some money. I felt like God said, "Am I not providing for you and your children?" "Yes, God. We are okay right now. But what about the Future?"....
(To continue reading this Sunday school article, click here.)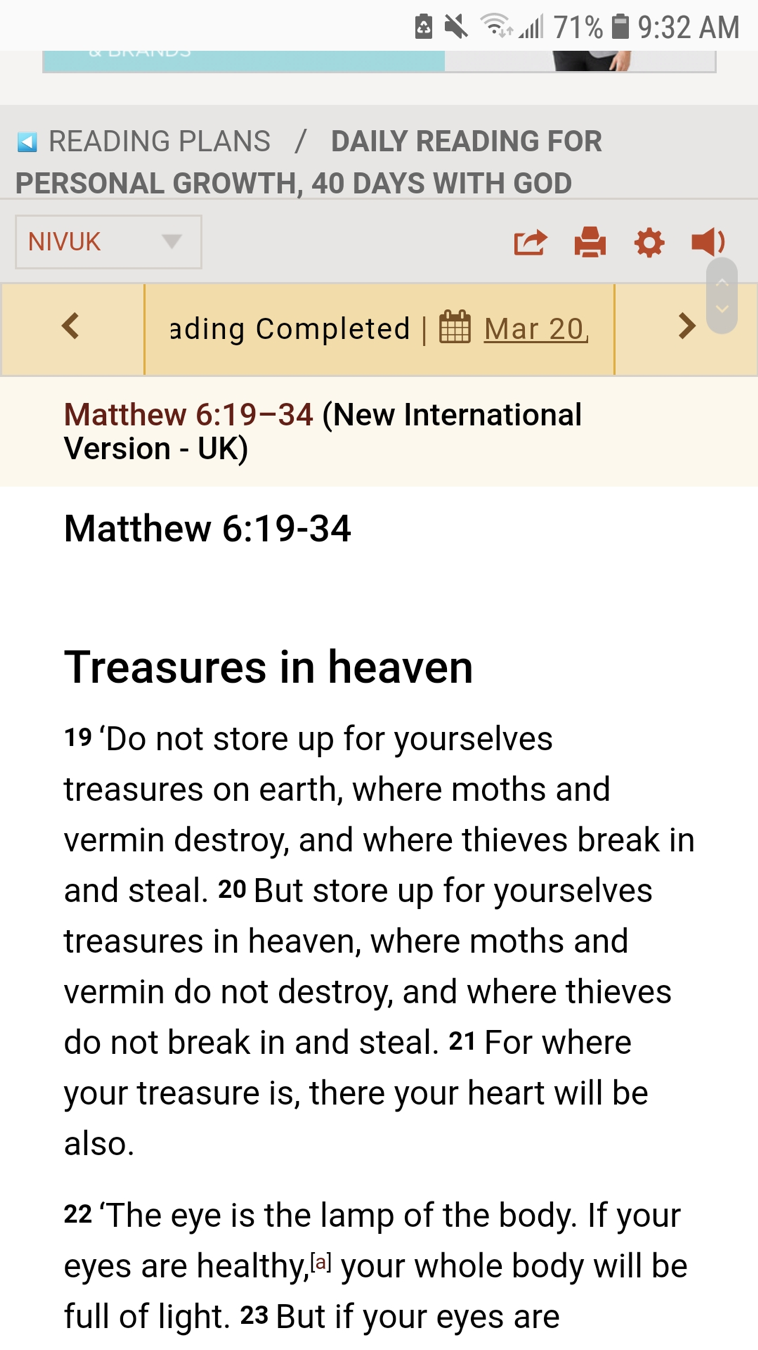 ---
Thanksgiving

Hello! Wherever you are in the world, I hope you are having a beautiful autumn...or spring.

This year is really flying by for me! I last sent out a newsletter in May. In the meantime, I moved 777 miles from Ohio to Nebraska. I am grateful for God's provision for me and my children during this time of transition. I am thankful to now be living near my extended family, who have been such a blessing. I am grateful for the direction God is giving me, one step at a time.

Since it is already November, I thought I would send a quick note today to say I am thankful for YOU. Thank you for taking the time to read my notes, look around my website, and try my curriculum. Thanks to those of you who have taken the time to send me an encouraging note. I appreciate it more than I can express.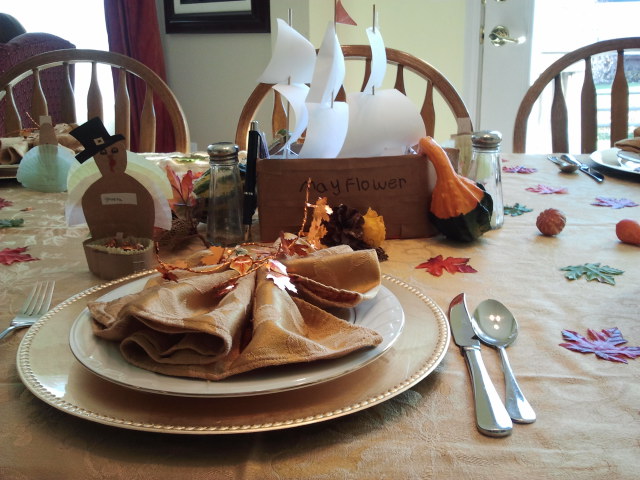 I also want to share some Thanksgiving ideas you may find helpful:
THANKSGIVING ACTIVITIES & LESSONS

(To continue reading this Sunday school article, click here.)
---
God Is With Me
You may have noticed I haven't sent out a newsletter in awhile. My family and I have going been going through a difficult season the last couple of years, in the midst of which my husband died suddenly and unexpectedly. 

Stuart has been gone a little over a year now, and as I try to reframe what life looks like without him, the only thing I am sure of is that God is with me. He has repeatedly assured me of His promise to NEVER leave me. Even when I feel forsaken, I know I am not. 

At some point in the future, I hope to share more of what God is teaching me through this season of my life. For now, let me just say that as I have continued to attempt to minister to children throughout this season, the kids have ministered to me just as much. 

Here is a picture taken about a month before my husband died. The mom of one of my students took it.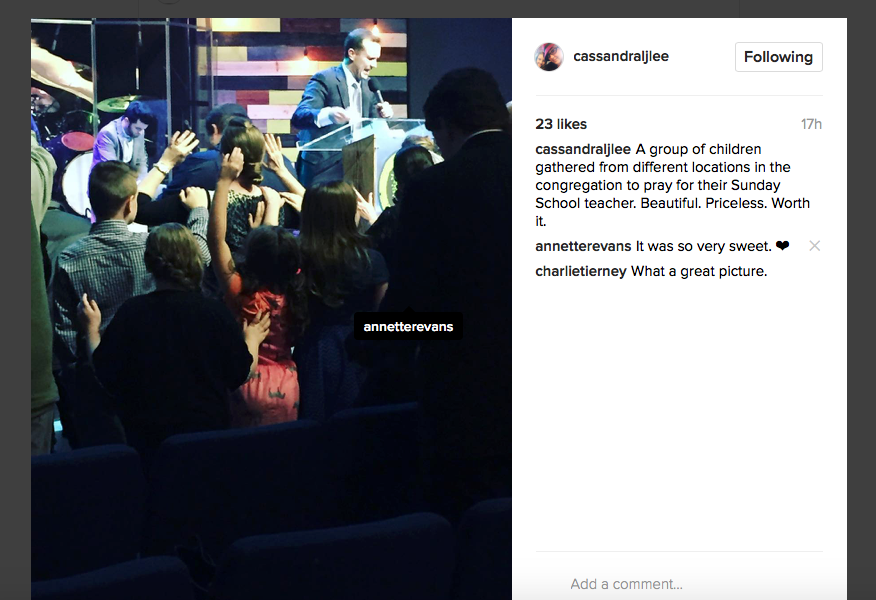 (To continue reading this Sunday school article, click here.)
---
Keeping Students Interested
Awhile back, I received some questions from a Sunday school teacher regarding how to make her lessons fun and keep her 5- to 9-year-old students interested. She also asked about what to do if a student is doing something wrong or annoying.

I thought I'd share some of my answer to her in the hopes that you will also find it helpful: 
(To keep reading this Sunday school article, click here.)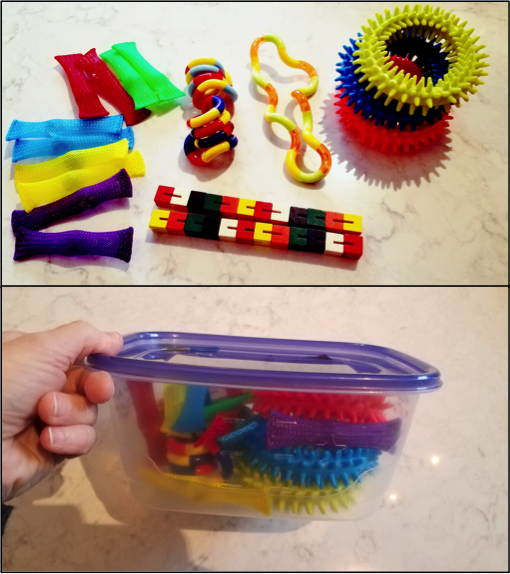 ---
Small Seeds
I hope your New Year has gotten off to a great start! I am embracing 2017 with hope.

To be honest, 2016 was a difficult year for my family. I'm sure you've had years like that—where all you can do is keep putting one foot in front of the other, holding on to Jesus, and trusting He knows the way through. And He does.

When going through a difficult time, it sometimes seems we have little inspiration or energy for ministry, especially to children. God reminded me of something recently, and I thought I'd pass it on to you:

Keep planting small seeds.
(To continue reading this Sunday school article, click here.)
---
Bubbles!
"Now ye are clean through the word
which I have spoken unto you."
John 15:3

What a great feeling to be CLEAN!

Well, kids may not agree, but they do agree with how fun this clean activity is! I first used it with my lesson:
I Love My Bible Lesson 9 CLEANSER

This is from my:

During the Bible Lesson, we talk about how reading your Bible and praying every day will cleanse your mind and help you think good thoughts. Later, we do this fun activity to tie into that thought.

Pour bubble solution into a bowl and demonstrate how to blow through a straw into the solution to make bubbles. Then give each student a bowl with bubble solution and let them have at it.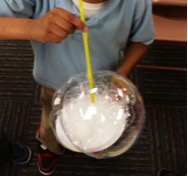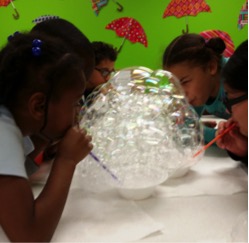 The kids absolutely love blowing bubbles this way!
(To continue reading this Sunday school article, click here.)
---
TMI --> NEI
I've been experiencing "information overload" lately, along with a sad lack of inspiration:

What can we do to liven up this Sunday school lesson? (blank mind)


How can we get kids more excited about Bible memorization? (blank mind)


What can I write to encourage my fellow children's ministers? (blank, blank mind)
I think information is good! Per dictionary.com:

INFORMATION:
knowledge gained through study,
communication, research, instruction, etc.;
factual data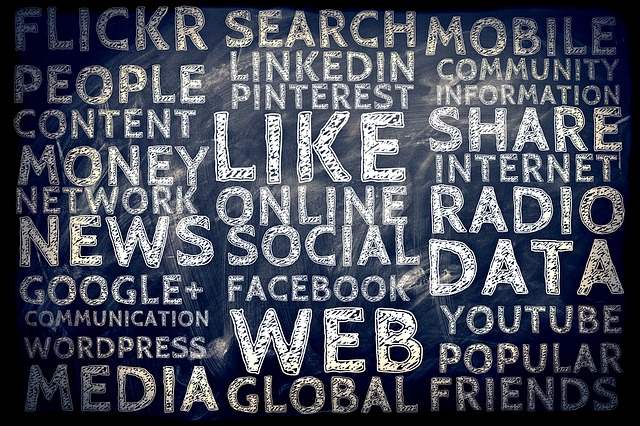 You see, I live with my husband, three children, and a cat. We moved last year and then remodeled our kitchen. I spent a lot of time researching things: neighborhoods, houses, kitchens, flooring, cabinets, countertops, sinks, appliances, lighting, homeschool curriculum, driver's ed, Sunday school lessons, vacation getaways (if only!)… Lots and lots of information!
As 2016 started, I realized I had not only filled my mind with a lot of information pertinent to my life, but also... (To continue reading this Sunday school article, click here.)
---
Be a Good Example

"...be thou an example of the believers,
in word, in conversation, in charity, in spirit, in faith, in purity."
1 Timothy 4:12
Last night during Bible study my pastor, Joel Urshan, said something to the effect of: You can have transparency (i.e., be authentic) and still be a good example. You don't have to choose between the two.

He pointed out we shouldn't revel in our faults; we should confess them! Our transparency can then be an example of how God is working in our lives.

I was thinking about how we children's ministry workers are a transparent example, whether we want to be or not. The kids are always watching us.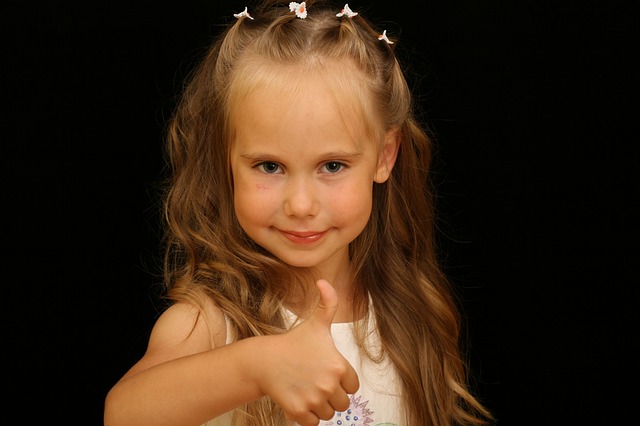 Last night, being the first Wednesday of the month, it was Family Night when all classes are together in the sanctuary. I was in the Sunday school office taking care of some things, so I slipped into the sanctuary a little late and sat towards the back in a particular spot where I don't believe I've ever sat before. I soon found out my students knew exactly where I was... (To continue reading this Sunday school article, click here.)
---
Got Temperance?

"Temperance" is a word we don't hear much nowadays. Even the more-modern equivalent, "self-control," seems to make people uncomfortable.

In our Kids' Power Hour class (6- to 10-year-olds), we recently completed a series on the Fruit of the Spirit, culminating with "Temperance." I used parables to illustrate each fruit in this series, and for Temperance I used Paul's comparison to athletes in competition:

"Know ye not that they which run in a race run all,
but one receiveth the prize? So run, that ye may obtain.

"And every man that striveth for the mastery is temperate in all things.
Now they do it to obtain a corruptible crown; but we an incorruptible.

"I therefore so run, not as uncertainly;
so fight I, not as one that beateth the air:

"But I keep under my body, and bring it into subjection: lest that by any means,
when I have preached to others, I myself should be a castaway."

1 Corinthians 9:24-27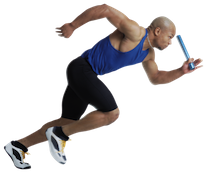 We discussed how Olympians are very familiar with temperance. They are willing to sacrifice sleep, favorite foods and drinks, and time with friends and family—for years... (To continue reading this Sunday school article, click here.)
---
Fear Not

"And the angel answered
and said unto the women, Fear not ye:
for I know that ye seek Jesus, which was crucified.
He is not here: for he is risen, as he said…"
Matthew 28:5-6

"Fear not." These words suddenly popped into my head today as I was driving down the street. Nothing scary was happening at the moment. It was a sunny day. The road was clear. There was no impending threat. As I wasn't feeling particularly fearful, the message felt like general admonition for my life right now. And a reminder of how far God has brought me.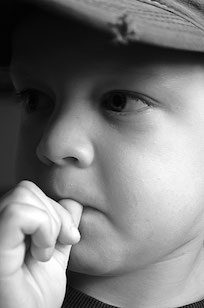 Today I sometimes forget how debilitating fear used to be in my life, how many prayers I prayed for God to deliver me from FEAR... (To continue reading this Sunday school article, click here.)
---
The Apple of His Eye
"Keep me as the apple of the eye,
hide me under the shadow of thy wings"
Psalm 17:8
While sitting at the ophthalmologist's with my daughter the other day, she was pleasantly surprised to find a Gideon Bible on the side table. As she began reading, she ran across Zechariah 2:8:
"For thus saith the LORD of hosts;
After the glory hath he sent me
unto the nations which spoiled you:
for he that toucheth you
toucheth the apple of his eye."
Which led to this question: What exactly is the apple of the eye? We knew the phrase was a term of endearment, referring to something uniquely precious, but how is that meaning conveyed by apples and eyes?

We decided to do some impromptu research... (To continue reading this Sunday school article, click here.)
---
IT'S A NEW YEAR DAY
"It is of the Lord's mercies
that we are not consumed,
because his compassions fail not.
They are new every morning:
great is thy faithfulness."
Lamentations 3:22-23
I finished an annual "reading through the Bible" yesterday, January 11, 2015. I try to read through the complete Bible most years. Sometimes I read straight through; sometimes I read chronologically; sometimes I read an Old Testament selection, New Testament selection, Psalm, and Proverb daily. I follow some kind of reading plan to keep me on track.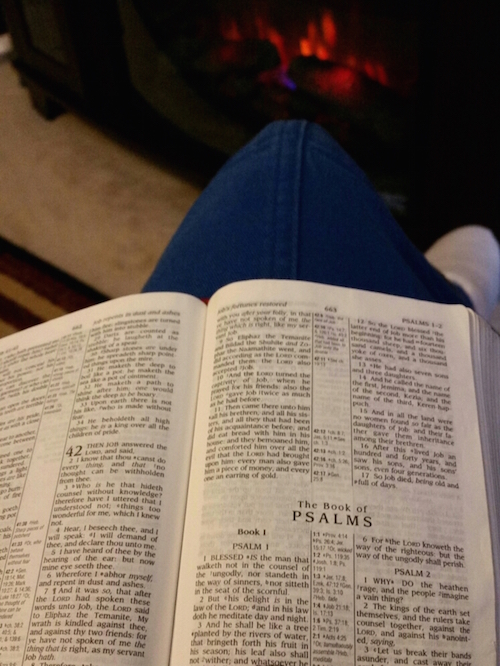 Actually, most of the time over the past year, I listened to the wonderful words as read to me via my Bible app, which is something I had never done before. I enjoy hearing the Word read. It is powerful!

You may think I finished late, a week and half into this New Year, but actually I started on January 12, 2014, so I finished right on time. Last year, for some reason, I was unable to start on January 1, but I decided not to write off the whole year (which may sound extreme, but has happened in the past). On January 12, I thought, Why not start today?... (To continue reading this Sunday school article, click here.)
---
Was Jesus Overdue?
I imagine Mary walking along a dusty road, shoes biting into her swollen feet. Her puffy, tingling hands are pressed against the ache in the small of her back.

I imagine her sitting atop a bouncing donkey, shifting this way and that. She tries to find a position that will allow her to take a complete breath, one where the baby isn't kicking her in the kidney.

I imagine her apologetically informing Joseph that yes, indeed, nature is calling again. She climbs awkwardly down from the donkey, and back up again.

I imagine this is why they are practically the last ones to Bethlehem. She is "great with child," swollen, miserable, awkward, aching.

I imagine her thinking, Will this baby ever come?! It is past time for Him to make His arrival!... (To continue reading this Sunday school article, click here.)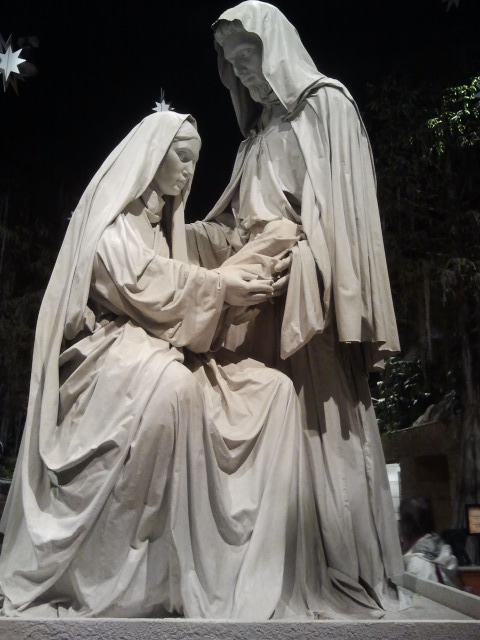 ---
End-of-Year Presentation
"Study to shew thyself approved unto God,
a workman that needeth not to be ashamed,
rightly dividing the word of truth."
2 Timothy 2:15

Last month we finished our Kids' Power Hour "year." We usually mark this occasion with a presentation to our church congregation, highlighting what we have learned. We have typically done this in the sanctuary on a Sunday evening with the kids quoting Bible verses, singing songs, and answering review questions.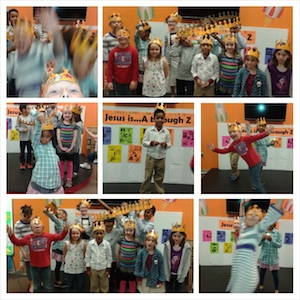 Our goals:

Give the audience a little taste of what goes on in Kids' Power Hour
Remind them of the value of studying God's Word on a regular basis
Encourage even more participation—students and volunteers...
(To continue reading this Sunday school article, click here.)
---
Thanksgiving 2008
"At midnight I will rise to give thanks unto thee
because of thy righteous judgments."
Psalm 119:62

Something—muffled footsteps?—awakened me at 6 o'clock Thanksgiving morning. I had stumbled into bed a mere five hours earlier, well after praying with my children and sending them happily to bed.

In my foggy-sleepy condition, I headed downstairs to discover the source of the furtive noises. Halfway down it dawned on me that I probably should have awakened my husband or grabbed a baseball bat…or something. But as I hesitantly took another step, I was met by our two youngest children headed up the stairs with secretive looks on their faces. Ten-year-old Emily quickly ducked into her bedroom, but I caught Logan, age 8, and asked him what they were doing up so early. He said they were writing their "thankfuls" for the Mayflower.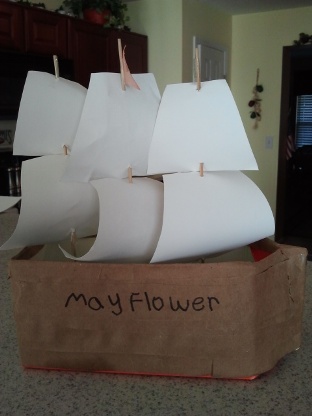 Our Mayflower is a "ship" made from a paper-covered orange juice carton with bamboo skewer masts and white paper sails. Every Thanksgiving for the last several years we have filled our Mayflower with little slips of paper detailing things for which we are thankful... (To continue reading this Sunday school article, click here.)
---
Thank God for Children
"At the same time came the disciples unto Jesus, saying,
Who is the greatest in the kingdom of heaven?
And Jesus called a little child unto him,
and set him in the midst of them…"
Matthew 18:1-2

Twenty years ago my mother was fighting for her life. Her cancer had been in remission for about five years when it returned with a vengeance in the fall of 1994. I lived in a neighboring state, and as she was in and out of the hospital, I was traveling back and forth, trying to balance the needs of my mom, children, husband, other family members, and myself. It was an unbelievably stressful time.

On Halloween, which is also Mom's birthday, I drove the four hours to the hospital, wrestled my 5-year-old daughter and 3-year-old son into costumes, took a deep breath, and walked them into the hospital. My only thought was to surprise Mom, and bring a smile to her face.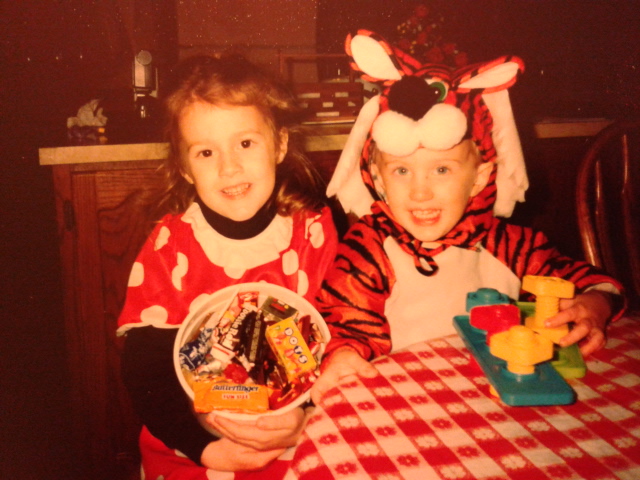 The kids immediately garnered attention, eliciting smiles and sweet comments. The attention increased when we reached the oncology floor... (To continue reading this Sunday school article, click here.)
---
Called to Faithfulness
"Moreover it is required in stewards that one be found faithful."
1 Corinthians 4:2 NKJV

You may remember when you first felt God call you to minister to children. It may have been a specific moment in time, in a particular church service or time of prayer. Or you may have been called gradually as you assisted in various ministries, eventually realizing that working with young people fits the particular talents and abilities God has given you.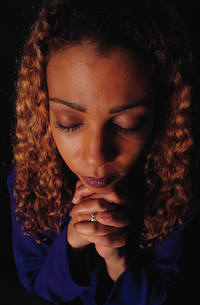 Whatever the circumstances of your calling, your enthusiasm may have waned at some point. You may not be seeing the results you expected. You may not be getting the support you anticipated. Teaching children week in and week out takes energy and inspiration. And some weeks those are in short supply... (To continue reading this Sunday school article, click here.)
---
Making Good Use of "Extra" Time
"Redeeming the time, because the days are evil."
Ephesians 5:16

This past Wednesday "big church" went long, so we had some unexpected minutes to fill in Kids' Power Hour. This could have been cause for frustration, or maybe even panic, but thankfully I have a few fun, easy activities to fall back on at times like this.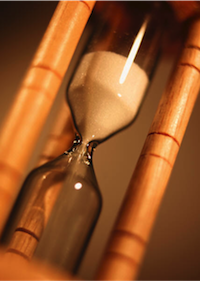 NOTE: I like to make the best possible use of the time I have with my students since it's already limited to about 1½ hours a week. Therefore, I try to avoid just showing a DVD or letting the kids run around the room. I want to make the "extra" time we have together fun, interactive, and productive.

Here are some things we do to make good use of extended class time... (To continue reading this Sunday school article, click here.)
---
Ordered Steps

This morning I was headed down the stairs to the basement to feed PT (Puddy Tat), who had been winding himself around my legs and informing me of his hunger, in very insistent tones. I had a cup in one hand, and I pulled my phone out of my pocket with the other, intending to quickly peruse Facebook. Unfortunately, I missed the last step on the first flight of stairs and fell in a noisy heap onto the landing. My left ankle immediately screamed in pain while PT stood at the bottom of the stairs and impatiently stared at me with his "Why have you not yet fed me?" look.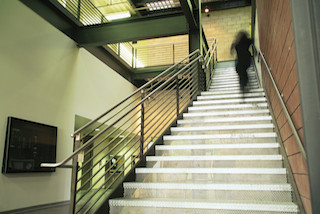 After a few moments, I tentatively tried standing. Enduring moderate pain, I was able to feed and water the cat. I then headed back upstairs to RICE (rest, ice, compress, elevate) my ankle, all the while thinking about missteps... (To continue reading this Sunday school article, click here.)
---
Fun Review Ideas

"I will delight myself in thy statutes: I will not forget thy word."
Psalm 119:16

We want our students to retain the valuable things we have invested our time in teaching. And there is nothing more valuable than God's Word.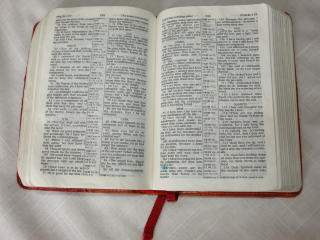 "The law of thy mouth is better unto me than thousands of gold and silver."
Psalm 119:72

Here are some practical and fun ideas to help you review the Bible lessons you teach your students:

QUESTIONS

Come up with a list of five to ten review questions for each lesson you teach.
Make sure most questions do not have a "yes" or "no" answer.
Make some questions easy and some more difficult, taking into account the ages and abilities of your students.
Make your list of review questions cumulative, adding to it each week over the course of your quarter or year.
GAMES
Use your list of review questions to play fun games. Here are some I have used: (To continue reading this Sunday school article, click here.)
---
Sweet-Smelling Worship

I was singing a song with the congregation at church the other day. It was a song I learned years ago when I was part of a choir in another church in another state, and suddenly memories came pouring back in. I was reminded of God's blessings in my life in that time and place, and the memory of those blessings deepened my grateful worship in the present moment.

I remember reading that smells can spark vivid memories, that one's sense of smell and one's emotional memories are intrinsically linked in some part of the brain... (To continue reading this Sunday school article, click here.)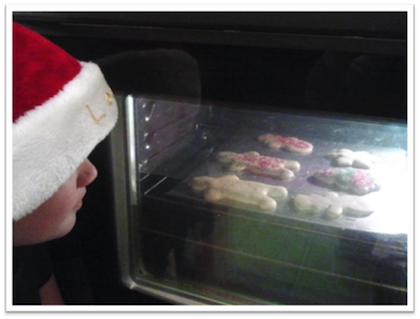 ---
Building Positive Relationships
with Your Students
As a teacher, I want to make a lasting difference in the lives of my students. In order to have the privilege of really speaking into their lives, I need to build positive personal relationships. I may be teaching a classroom full of children, but I want to get to know each of them individually.

When I know each student personally, she/he:
Is more willing to participate in activities.

Shares thoughts and ideas more readily.

Is more engaged in learning.

Responds more positively to correction.

Is more willing to listen to counsel.
(To continue reading this Sunday school article, click here.)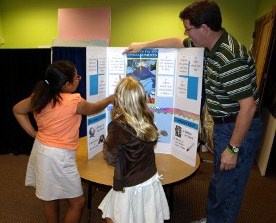 ---
Sweeter Than Honey
"Pleasant words are as an honeycomb, sweet to the soul, and health to the bones."
Proverbs 16:24
As I was reading this verse the other day, I considered my words. Are they pleasant? Kind? Sweet? Sometimes.
But what about when I have to deal with a misbehaving child? Or a rude adult? Or a long wait? Or things not working according to my carefully constructed plan?
The quickest way to change the flavor of an unpleasant situation is to inject some kind words. However, sometimes it's hard to come up with those kind words in the middle of the unpleasantness. My words are not sweet enough. I need God's words... (To continue reading this Sunday school article, click here.)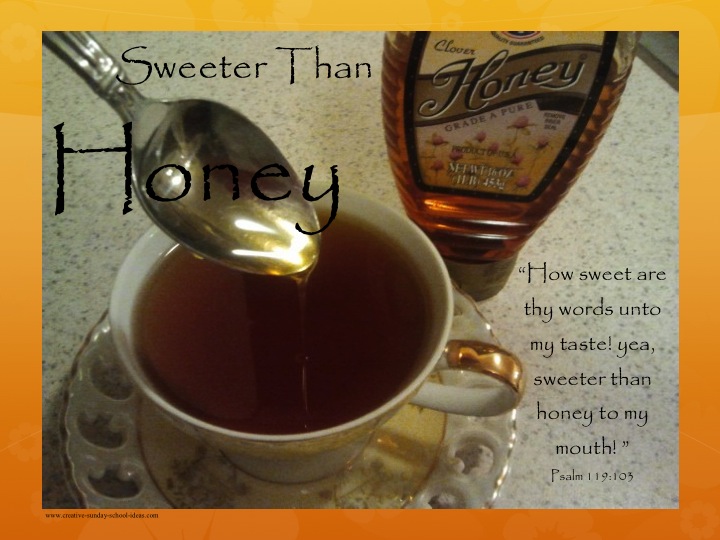 ---
Portable Classroom Decor
As teachers, we work hard to make our classrooms visually appealing to our students. I also like to make sure I am including lots of purposeful, visual reminders of what we are learning. I want the decor to be more than just fun and attention getting; I want it to help the kids remember what we have learned, even when we are not talking about it.
A few years ago I also began making my classroom decor more portable, mostly out of necessity and mainly due to two different situations... (To continue reading this Sunday school article, click here.)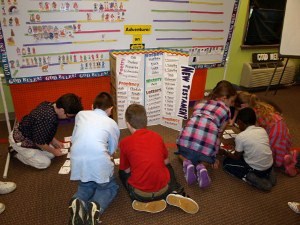 ---
Reading Aloud
Reading aloud is an enjoyable activity to share not only with your students, but also your own children, grandchildren, nieces, nephews, or maybe even kids at a local library or school story hour. Reading aloud is an opportunity to introduce kids to wonderful books, encourage a love of good literature (including the Bible), and enhance your lessons with stories that reinforce your message.
I enjoy reading aloud; however, I know not everyone feels comfortable doing so. The following ideas can help you improve your read-aloud skills and increase your comfort level... (To continue reading this Sunday school article click here.)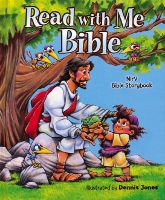 ---
Student of the Week

Something I have used from time to time to encourage good classroom behavior is "Student of the Week."
I tried this again recently when we had some newer students who were a having a bit of difficulty adjusting to the structure of our particular class. This often happens when younger students are promoted into the class (they come from a class of 3- to 5-year-olds, where they are the oldest, to a class of 6- to 10-year-olds, where they are the youngest) or when students are totally new to Sunday school or when students have been in school all day and are a little antsy at an evening class, etc.
First, I try to make sure the kids know we are trying to create a classroom atmosphere where everyone can learn and have fun... (To continue reading this Sunday school article, click here.)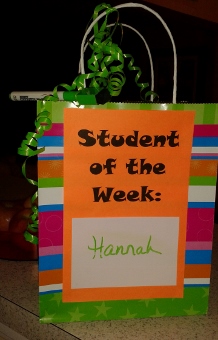 ---
Respond to Sunday School Articles

If you have any questions or comments about any of the Sunday school articles or ideas on this page, feel free to contact me. I love hearing from you!
---
Return from Sunday School Articles / Ideas to Creative Sunday School Ideas HOME page

Subscribe to "Annette's Notes" to receive periodic emails containing ideas and inspiration for teaching kids the

Bible. Rest assured we will never sell or give away your email address.
---