I Love My Bible! Curriculum

I wrote this curriculum to share with my students why I love my Bible. In this series of 13 lessons, we look at 14 things God's Word is: It's a SWORD, LIGHT, and sweet as HONEY. It's like "FIRE shut up in my bones!" It's full of ROAD SIGNS, and it's also a MAP. It's our BREAD, MEASURE, CLEANSER, TREASURE, and MIRROR. It's MILK when we're baby Christians and MEAT as we mature. It's the SEED that grows into good fruit in our lives. Yes, I love my Bible!
I want to share my love for God's Word with my students. I want them to become familiar with the Bible and develop a regular habit of reading, studying, memorizing, and obeying it. I know that their lives will be immeasurably blessed if they do this.
Each lesson of the "I Love My Bible!" curriculum is written to fill 90-120 minutes and follows this basic schedule:
Large-Group Memory Work

Small-Group Memory Work

Review
Worship

Rules & Prayer
Bible Lesson
Bible Skills
Activity/Snack
Descriptions of each part of the schedule follow.

Jump to lesson links at the bottom of the page.
---
Large-Group Memory Work

During this time, students work on memorizing the books of the Bible. Choose from "Books of the Bible Memorization Activities." You will need a Books of the Bible Demonstration Board and Books of the Bible Cards. You will find visuals for the board and printable cards on my "Learn the Books of the Bible" page.
You may also wish to work with your students on the 10 Commandments and/or an extended passage of Scripture. You can repeat the passage together each week until it is memorized. The "I Love My Bible!" lessons reference Psalm 1 since this is the passage we worked on memorizing. I chose Psalm 1 because it has only six verses and talks about the benefits of delighting in and meditating on God's Word. Use actions to help students remember the words.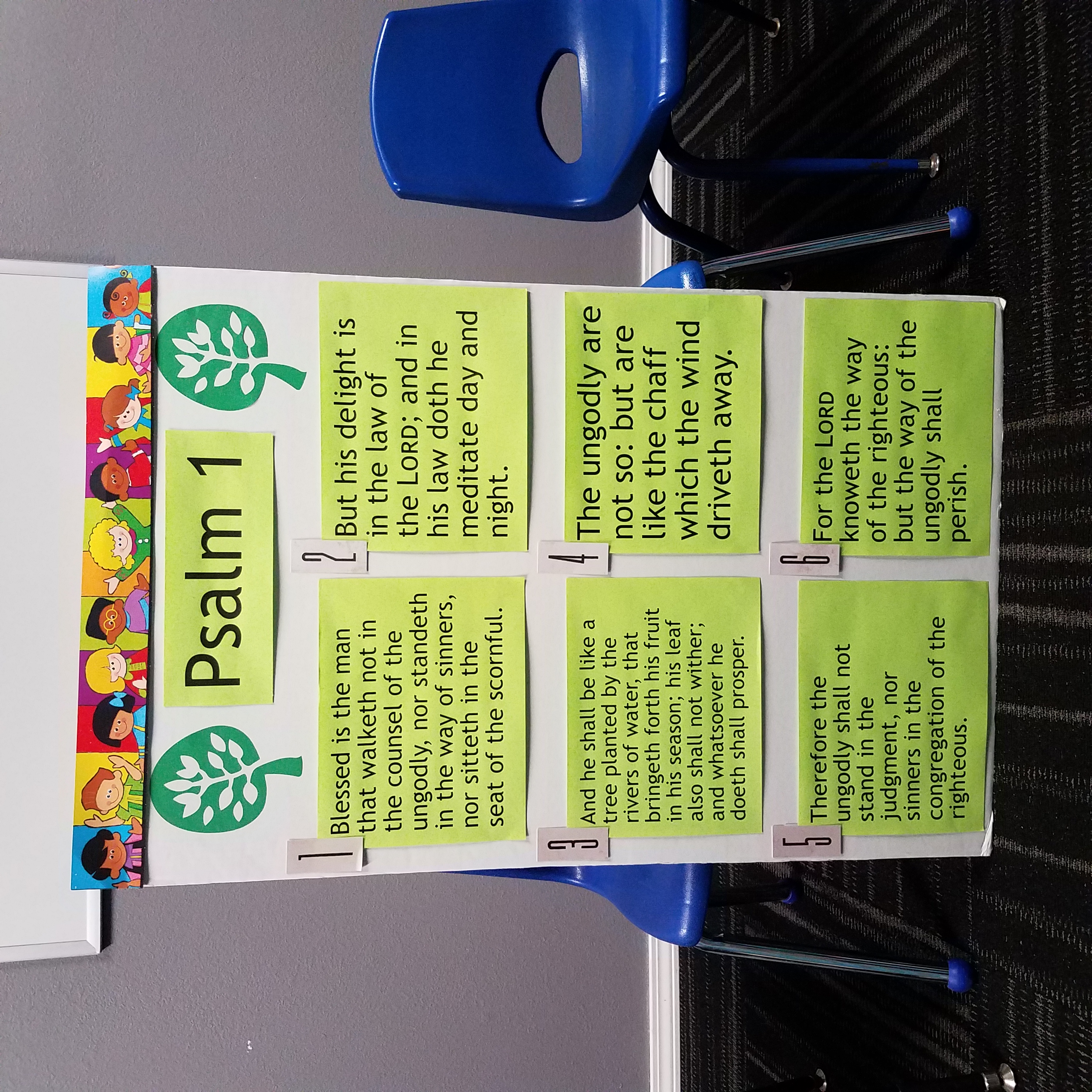 Click here for a PDF file of Psalm 1 which you can print and place on poster board (as above).
Click here for a PDF file of Psalm 1 with suggested actions to aid in memorization.
Memory Work - Small Group

During this time, we divide our class into smaller groups, generally by age, three to four students per teacher if possible. Each student works through a list of verses at his/her own pace. Teachers assist students as needed, and students quote verses to teachers when they are ready. Our kids really enjoy this time!
You will need to assess the size of your class to determine the number of adults you need to help during small-group time. We staff our class with four teachers. This works very well for our current 15-20 students. From time to time we have had some extra helpers come in just during small-group time to assist students and listen to them quote verses.
You will also need to decide what verses you want your students to memorize. We work on doctrinal verses during this series, memorizing six at a time, quoting one at a time, then two at a time, etc., until they are ready to test on all six verses. We then offer prizes for students who pass with a score of 80 percent or better. My "Bible Memorization" page has more information if you need additional ideas, and there is also more information in the individual lessons below.

Review
Anything worth teaching is worth reviewing. We want our students to remember the things we have been learning, cumulatively, throughout the quarter and the year. We use questions taken from previous lessons, often incorporating them into a quick game to make Review a fun and interactive time.
Rules & Prayer

Have a basic list of about five rules. (We call ours "Power Hour Promises.") Review these quickly and pray with your students to help them focus right before the Bible Lesson.
Click here to go to my "Free Sunday School Printables & Visuals" page for our Power Hour Promises.
Bible Lesson

I usually begin the Bible Lesson by showing students the natural item (for example, bread) with which God's Word is being compared and asking them questions to help them make the connection between the natural item and the spiritual application. I tend to ask a lot of questions in my lessons. Some are open ended, intending to invite discussion, and some have specific answers. I also like to read verses directly out of my Bible during the lesson, setting an example for my students.
The Bible Lessons are scripted with words you are to say in bold and suggested answers in parentheses ( ). Highlighted words are actions you are to take. All Bible Lessons end in prayer. It's so important to give your students an opportunity to respond to the Bible Lesson!
I have created a visual to go with each Bible Lesson, which you will find listed under each corresponding lesson below, as well on my "Free Sunday School Printables & Visuals" page. You can add each week's visual to a display board so that students are reminded of what they have learned as the quarter progresses.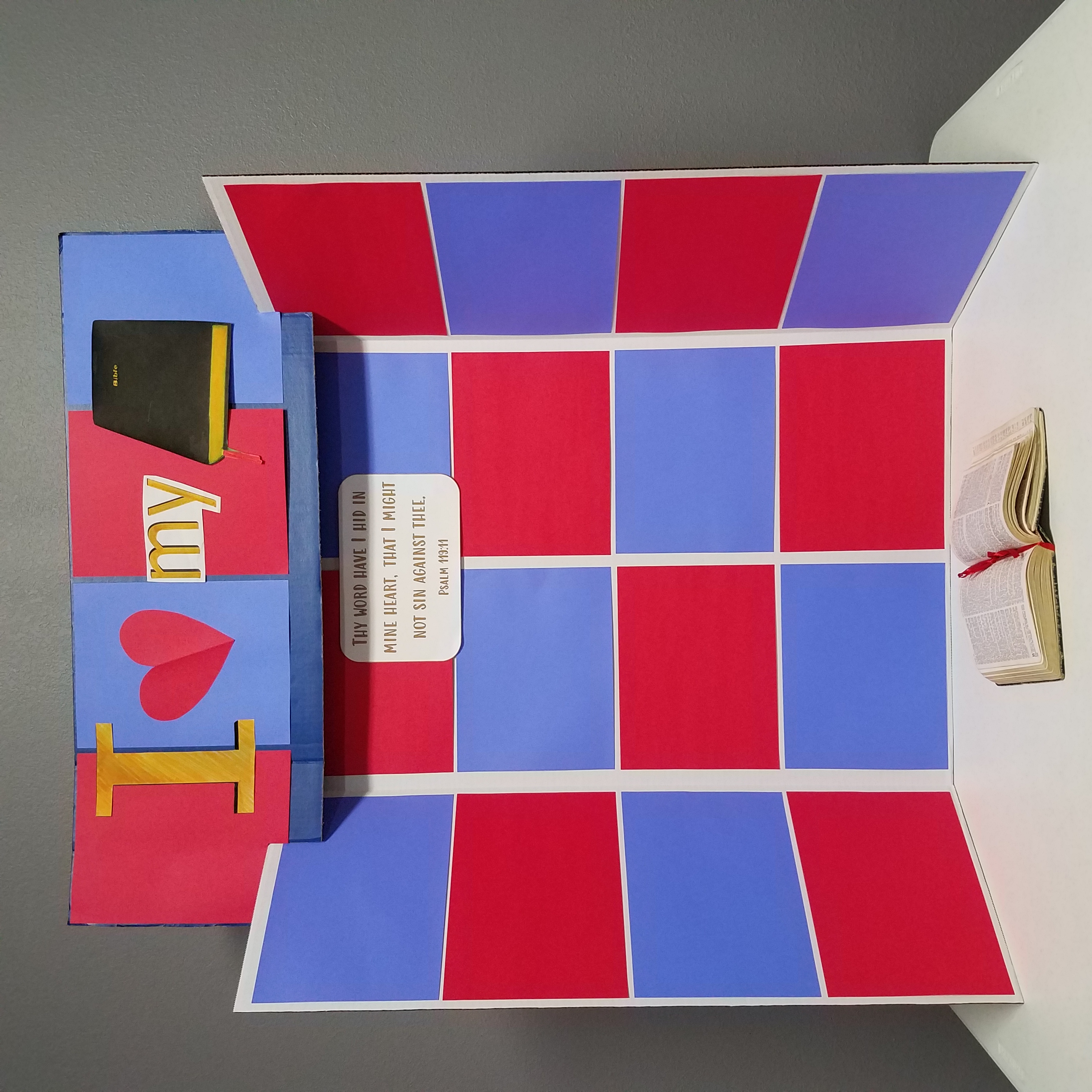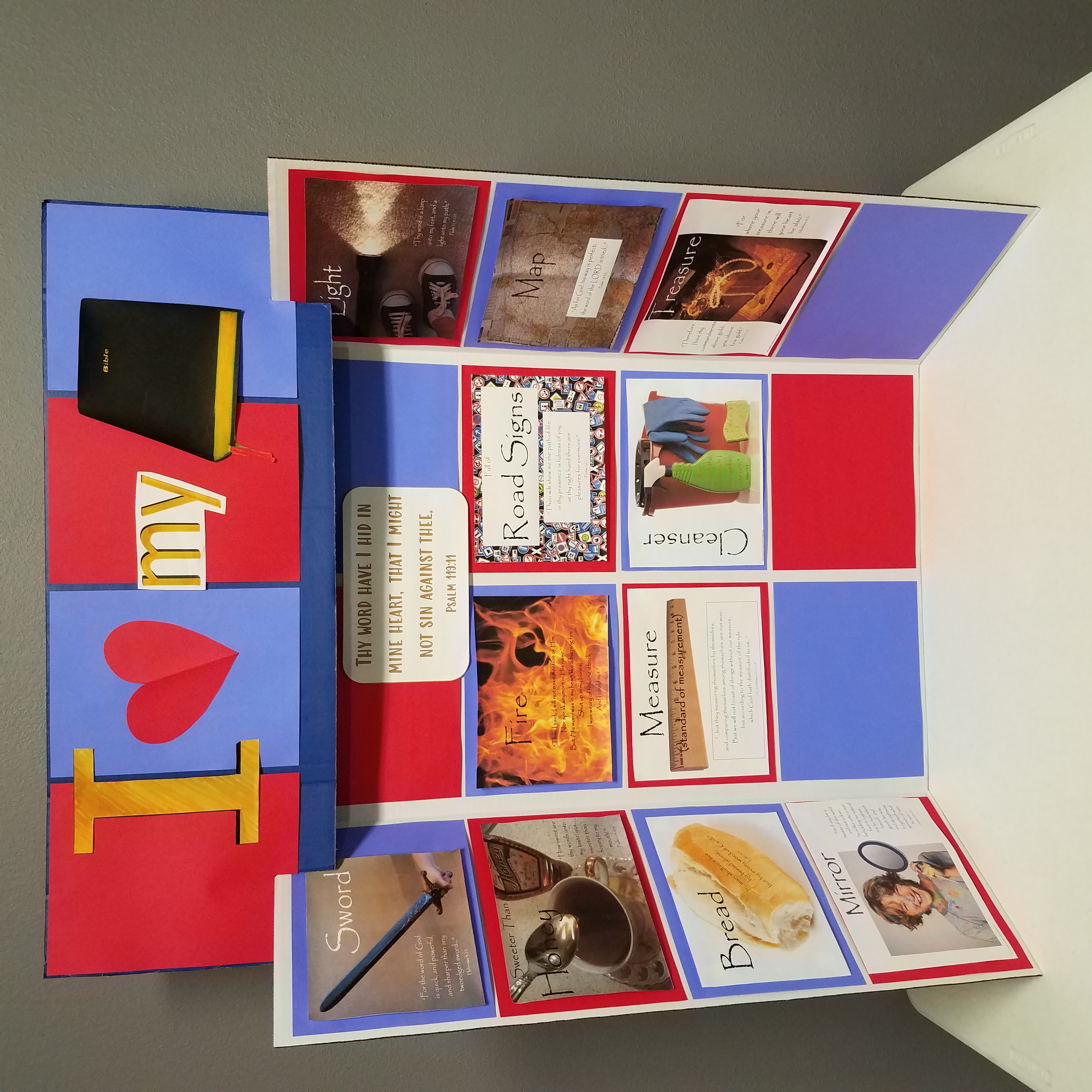 Bible Skills

This is the portion of the class where kids get hands-on with the Bible, learning how it is organized and practicing looking up verses. We purchased a case of Bibles to have on hand in our classroom. However, students should be encouraged to bring theirs from home if possible. The goal is to become familiar with and learn to love your very own Bible.
Activity/Snack
During this time, kids enjoy an activity, craft, and/or snack related to the lesson. Our goal is that even while they are eating a snack, the lesson is being reinforced.
You will find any printable craft/coloring sheets related to these "I Love My Bible!" lessons listed beneath them, as well as on my "Free Sunday School Coloring Pages" page.
Putting all of these elements together makes for an exciting learning environment. I pray your students will have fun learning about the amazing things God's Word is.
---
I Love My Bible! Curriculum

Click on the links below to open a PDF file of each lesson.

Lesson 1 – God's Word is a SWORD
Lesson 2 – God's Word is LIGHT
Lesson 3 – God's Word is Sweeter than HONEY
Lesson 5 - God's Word is Full of ROAD SIGNS
Lesson 6 – God's Word is a MAP
Lesson 7 – God's Word is BREAD
Lesson 8 – God's Word is Our MEASURE
Lesson 9 – God's Word is a CLEANSER
Lesson 10 – God's Word is a TREASURE
Lesson 11 – God's Word is a MIRROR
Lesson 12 – God's Word is MILK & MEAT
Lesson 13 - God's Word is SEED

I LOVE MY BIBLE! Review Questions
I LOVE MY BIBLE! Review Questions – Condensed

---
I hope these lessons are a blessing to you and your students!
Remember, the visuals for each lesson can be found here.
And any coloring/activity pages related to the ACTIVITY/SNACK can be found here.

Return to Creative-Sunday-School-Ideas.com HOME page
Subscribe to "Annette's Notes" to receive periodic emails containing ideas and inspiration for teaching kids the

Bible. Rest assured we will never sell or give away your email address.
---