Adventures on Route 66


Chronological Bible Curriculum



Description: Adventures on Route 66 is an extensive, fun, fast-paced curriculum which takes kids through the 66 books of the Bible chronologically.  Students add people and events to a large timeline each week to help them envision the "big picture" of the Bible. They also work on memorizing Bible verses and learning to find things in their Bibles. Crafts and snacks reinforce Bible lessons.
Jump to lesson links at the bottom of the page.
Goal: Help students understand the order and organization of the Bible.
Often young students are taught Bible stories in random order (for example, to match a certain theme). The goal of this curriculum is to help students see the "big picture" of the Bible by studying the people and events of the Bible chronologically. We call this Adventures on Route 66, referring to the 66 books of the Bible.

Overview: The lesson plans for the Adventures on Route 66 Sunday school curriculum are written to cover 1-1/2 hours and follow this basic format:
MEMORY WORK – LARGE GROUP – 20 minutes
MEMORY WORK – SMALL GROUP – 15 minutes
REVIEW – 10 minutes
RULES & PRAYER – 5 minutes
BIBLE LESSON – 20 minutes
BIBLE SKILLS – 10 minutes
ACTIVITY/SNACK – 10 minutes
You will, of course, need to adjust the time allotted to each item depending on your class length.
Each part of the lesson plan is covered in detail below.
---
MEMORY WORK - LARGE GROUP
During this time, we use games and songs to help students learn the names and order of the 66 books of the Bible, the 10 Commandments, Bible memory work songs, etc. Click on the photo below for ideas and resources for learning the books of the Bible, including printable visuals and cards.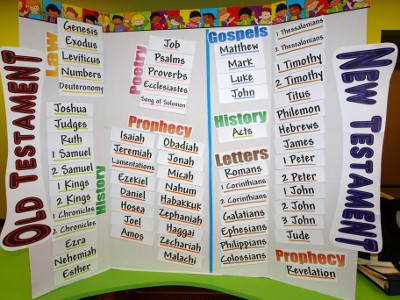 Other Bible memory work songs and ideas can be found here:
---
MEMORY WORK - SMALL GROUP
During this time, we divide our class into smaller groups, three to four students per teacher if possible. Each student works through a list of verses at his/her own pace. Teachers assist students as needed, and students quote verses to teachers when they are ready. Our kids really enjoy this time!
You will need to assess the size of your class to determine the number of adults you need to help during small-group time. Four teachers works very well for 15-20 students. From time to time we have had some extra helpers come in just during small-group time to assist students and listen to them quote verses.
You will also need to decide what verses you want your students to memorize. We work on six doctrinal verses at a time, with students quoting one at a time, then two at a time, three at a time, etc., until they are ready to test on all six verses at once. We offer prizes for students who pass with a score of 80 percent or better.
My "Bible Memorization" page has additional ideas.
---
REVIEW
Anything worth teaching is worth reviewing. We want our students to remember the things we have been learning, cumulatively, throughout the quarter and the year. We use questions taken from previous Adventures on Route 66 lessons, often incorporating them into a quick game to make Review a fun and interactive time.
Adventures on Route 66 Review Questions web page

or
Adventures on Route 66 Review Questions PDF
---
RULES & PRAYER
Have a basic list of about five rules. (We call ours Class Promises.) Review these quickly and pray with your students to help them focus right before the Bible Lesson.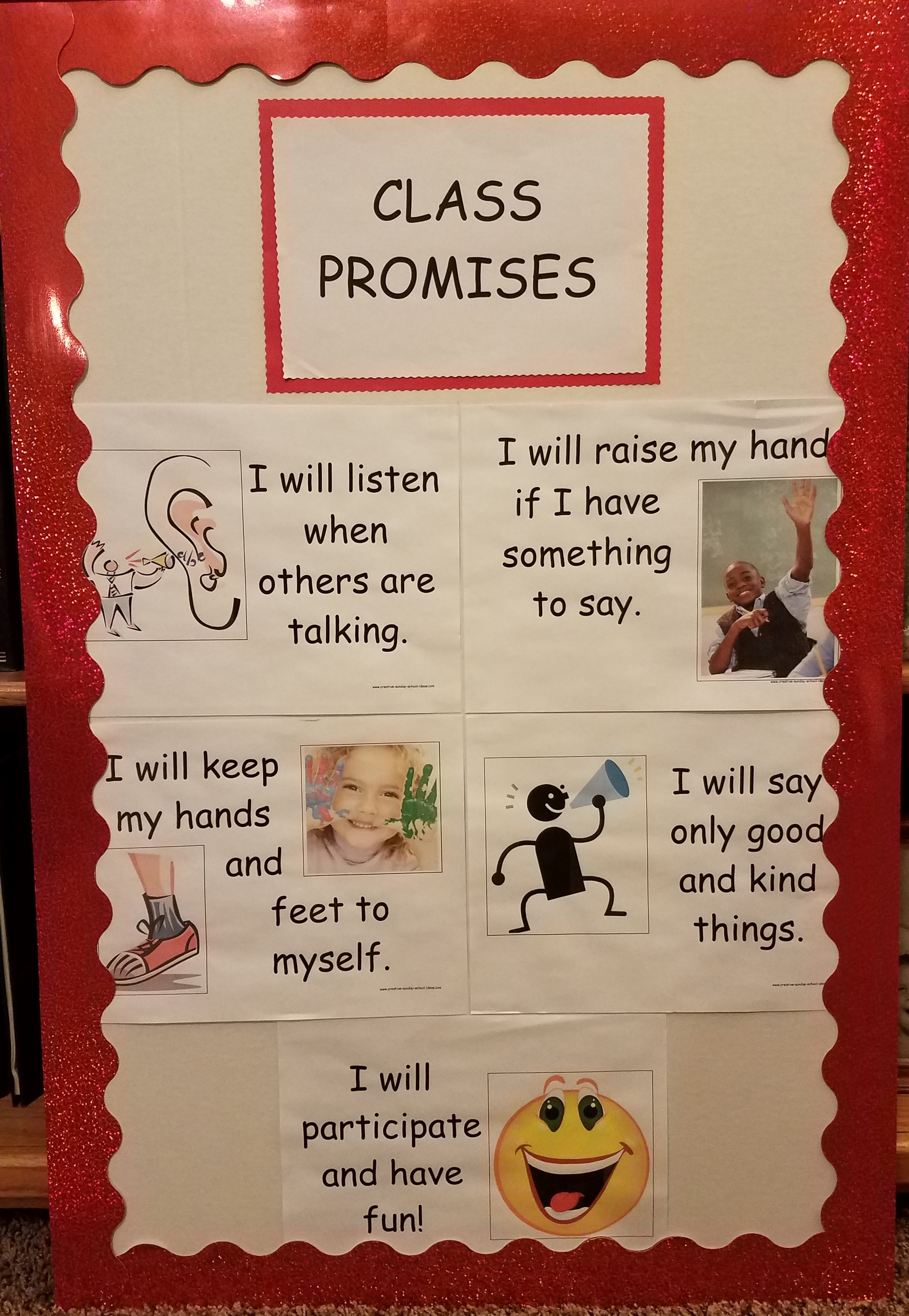 ---
BIBLE LESSON
Preparation:  Most of the Bible Lessons in the Adventures on Route 66 curriculum use the Read with Me Bible as a text.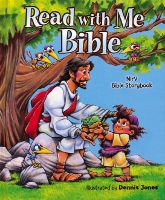 We use the Bible timeline from KONOS, adding figures to the timeline each week as we study them. This helps us visualize the order of events and people in the Bible.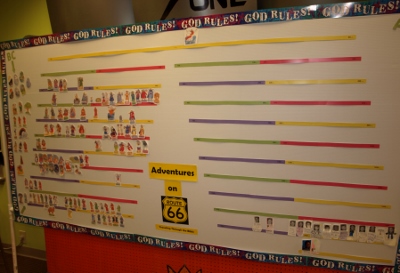 NOTE: I carefully measured and taped (with doublestick tape) the lines of the timeline to a sheet of corrugated plastic (Coroplast). Each week we use pieces of rolled tape to attach figures to the timeline, avoiding sticking the tape to the timeline itself. When we are finished with the curriculum for the year, I remove and file all the timeline figures but leave the timeline in place. The corrugated plastic board is easily stored with the timeline in place, ready for the next time we study this curriculum.

Lesson Organization

Lessons follow the same general pattern.

INTRODUCTION:
I like to begin the Bible Lesson by showing students an object (for example: clay, from which I am making a human figure, while introducing the topic of Creation). The purpose of the object is to gain the students' attention as we begin the Bible Lesson.
BIBLE STORY:
The next part of the lesson generally involves reading a few pages from the Read with Me Bible. I chose this Bible as the basic text for this series because it uses the New International Reader's Version (NIrV), which is a Bible translation, rather than a paraphrasing or retelling (as is the case with many children's Bible storybooks). Also, it has colorful, engaging illustrations.
NOTE: I really enjoy reading aloud to kids; however, I know not everyone does.  I suggest practicing reading the stories aloud several times before class, so that you will be very comfortable with them. Be sure to use lots of expression in your voice to make the reading interesting. When you are reading the stories during class, make sure the students can see the pictures. If you must turn the book towards yourself to read, be sure to turn it back toward the students after you finish each page.
After reading from the Read with Me Bible, we discuss questions related to the reading and add any figures to the timeline. We repeat this general pattern until all information is covered for that week's lesson. Some lessons have visuals in place of or in addition to the Read with Me Bible. You will find these visuals on my "Free Sunday School Printables & Visuals" page.
The Bible Lessons are scripted with words you are to say in bold and suggested answers in (parentheses). Highlighted words are actions you are to take.
LIFE APPLICATION:
Bible Lessons end with a thought to take away or a way to apply what we have learned. We then pray together. It is so important to give the kids an opportunity to respond to the Bible Lesson!
---
BIBLE SKILLS

This is where kids get hands-on with the Bible, exploring its organization and looking up specific verses. We purchased a case of inexpensive Bibles to have on hand in our classroom. However, kids should be encouraged to bring a Bible from home so they can become familiar with their very own Bibles.
---
ACTIVITY/SNACK

This is the part of the class where the kids enjoy an activity, craft, and/or snack related to the Bible lesson. Our goal is to reinforce the lesson even during activity time.
Some activities involve a coloring or activity page. You will find these here.

---
Putting all of the above elements together makes for an exciting learning environment. My prayer is that you and your students will be blessed by your Adventures on Route 66!
---
Adventures on Route 66 Lesson Plans

Click the on the links below to open a printable PDF file of each lesson plan. You can also see videos of me teaching several lessons.

Lesson 1 - Creation & The Fall
Lesson 2 - Cain & Abel; Noah & the Flood; the Tower of Babel
Lesson 6 - Moses (Through the First 5 Plagues)
Lesson 7 - Last 5 Plagues & Crossing the Red Sea
Lesson 8 - The Israelites in the Wilderness
Lesson 9 - Canaan: The Promised Land
Lesson 11 - Last Judge & First Kings

Lesson 12 - David, Solomon, & Rehoboam
Lesson 14 - Kings of Israel & Judah; the Prophet Elijah
Lesson 18 - Esther, Ezra, & Nehemiah
Lesson 19 - Old Testament Review
Lesson 20 - Jesus the Savior Is Born
Lesson 21 - Jesus' Youth, Baptism, & Temptation; John the Baptist
Lesson 22 - 12 Disciples; Jesus' First Miracle; Sermon on the Mount
Lesson 23 - Miracles: Jesus Heals, Controls Weather, Raises Dead
Lesson 26 - Martha, Mary, & Lazarus

Lesson 27 - A Thankful Leper and Other Lessons in Manners
Lesson 28 - Washing Feet, the Last Supper, Gethsemane, Arrest
Lesson 29 - Jesus' Trial Death, & Burial

Lesson 30 - Jesus' Resurrection & Ascension
Lesson 31 - Pentecost, Acts of the Apostles
Lesson 33 - Saul's Conversion; Cornelius
Lesson 34 - Paul's Missionary Journeys & Letters
Lesson 35 - General Letters & Revelation

Return to the top of the page.
Remember:
Any printable visuals associated with these Adventures on Route 66 lessons can be found here.

Printable activity/coloring pages can be found here.
---
Click below for a video of our end-of-year wrap-up of Adventures on Route 66, demonstrating a bit of what we learned.

Subscribe to "Annette's Notes" to receive periodic emails containing ideas and inspiration for teaching kids the

Bible. Rest assured we will never sell or give away your email address.
---